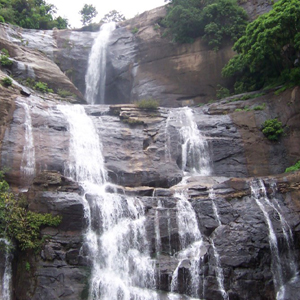 Courtallam is known as the 'Spa of the South'. This is a place to drop in during summer time for a cool and refreshing experience. The 'Courtallam season', as it is so called, begins in the month of June and ends in September. During these months it can get really crowded here.
The waters of Courtallam falls is also thought to be a body revitalizer and energizer thus making it a place for relaxing from a hectic schedule and taking time off with the family. There are a number of health resorts here. Coming to Courtallam can be a really relaxing experience. Scenes surrounding the waterfalls are those of people enjoying the water with friends and family.
There are nine waterfalls in Courtallam and the most popular of the lot is 'Aintharuvi' (Five Falls) which is a waterfall that breaks into five smaller waterfalls just before reaching the ground. Taking a bath in Courtallam falls can be rejuvenating and refreshing for the body and the mind. Especially during the dusty and sultry South Indian summers, Courtallam is a great getaway for family and friends.